Senator Levin

said in a statement Saturday.

"These e-mails show that, in fact, Goldman made a lot of money by betting against the mortgage market."
"Estos e-mails demuestran que, de hecho, Goldman hizo un montón de dinero apostando contra el mercado hipotecario".
«Ces e-mails montrent que, en fait, Goldman a fait beaucoup d'argent en pariant contre le marché hypothécaire."
"Zhèxiē diànzǐ yóujiàn xiǎnshì, shìshí shàng, gāoshèng tíchū le hěnduō jīnqián tóuzhù duì dǐyā dàikuǎn shìchǎng."
"Diese E-Mails zeigen, dass in der Tat, machte Goldman viel Geld mit Wetten gegen den Markt für Hypothekarkredite."
In late 2007, as the mortgage crisis gained momentum and many banks were suffering losses, Goldman Sachs executives traded e-mail messages saying that they would make "some serious money" betting against the housing markets, The New York Times's Louise Story and Sewell Chan report.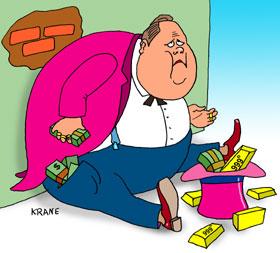 Lloyd C. Blankfein,

the bank's chief executive, acknowledged in

November 2007

that the firm had lost money initially. But it later recovered by making negative bets, known as short positions, to profit as housing prices plummeted.

"Of course we didn't dodge the mortgage mess,"

he wrote.

"We lost money, then made more than we lost because of shorts."
................................................................................................
In another message, dated July 25, 2007,

David A. Viniar,

Goldman's chief financial officer, reacted to figures that said the company had made a

$51 million profit

from bets that housing securities would drop in value.

"Tells you what might be happening to people who don't have the big short,"

he wrote to

Gary D. Cohn, now Goldman's president.Investment Banking
SOURCE:"
Goldman E-Mails Cited 'Serious' Profit on Mortgages"
April 24, 2010, 9:11 pm
Link: "The New York Times"
http://dealbook.blogs.nytimes.com/2010/04/24/goldman-e-mails-cited-serious-profit-on-mortgages/?scp=1&sq=louise%20story%20and%20sewell%20chan&st=Search