The culture of solidarity prevailing in Cuba, to the culture of the individuality of the United States, can you explain how the phenomenon of violence against women is expressed in both contexts
Sue Greene • digital@juventudrebelde.cu the 2010 March 26 20: 43: 51 CDT
Sue Greene
digital@juventudrebelde.cu
the 2010 March 26 20: 43: 51 CDT
"What I can tell you you have do not have other men?..." It's the value of your own tenderness.
D. H. Lawrence
I grew up in a culture of violence during a violent. My eyes were male violence in many places of my environment. In the streets of Philadelphia saw gang of boys with firearms. On television he saw their images in Vietnam.
An image that always accompanies me is the newspaper in the city of my youth. Every day on the front cover featured a column entitled daily account of crime: a list of the number of women raped (for men) on that day, the number of people killed (for men), the number of people attacked violently (invariably male)...
All these events occurred during 24 hours in my city. Day after day, token such violence. My home with a divorced mother and a sister, was my refuge. So I learned that tenderness was female and male violence. I needed to travel very far to open the eyes and the heart to a different perspective.
The unknown
My first significant encounter with the male tenderness begins in the early hours of the day I arrived in Cuba. Had many expectations and wishes to absorb every facet of the country that I decided to explore it immediately.
I left the hotel and I went on the Boulevard of Bishop, in old Havana. The streets were dark and empty. While dawn came to the San Francisco square and saw hundreds of meeting men.
My experience and education said me that this was not a safe position for a single woman. I felt fear, emotionally. Then I remembered where it was. Intellectually knew that it was safe because it was in Cuba............
........I went to the men and I was fascinated. Had been faced with a sample exquisite smoothness and male beauty: perched on their toes, acuclillados on his shoulders, there were hundreds of tropical birds.
I looked at the interaction between men and birds. They extended it caresses. Speaking to their birds. Kiss them. The displayed proudly to his friends. They were open in her affections and suavidades. I have never seen a group of men as open to other men.
This male tenderness of Cuba caught my attention, my fascination and my admiration because it was so contrary to my world. Until that point I had not known that tenderness on a large scale. In this new land it was on the streets. In my homeland saw violence and violence corollary is a great lack of tenderness.
Why in Cuba? I believe that there are many explanations for the difference between my country and men from here. Differences of culture, differences between a life of cooperation and competition life and sex education.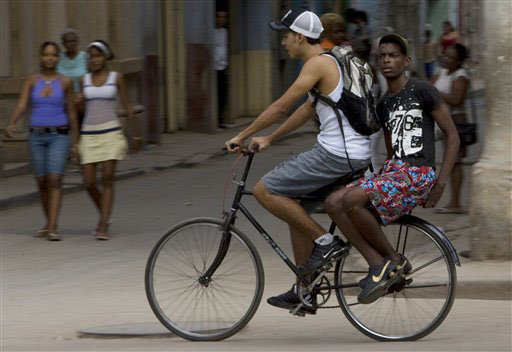 On the one hand saw the activism of national organizations in Cuba, on the other ubiquitous pornography in the United States that glorifies violence against women and trafficking as object and love to weapons, which also glorified violence.
A culture of solidarity to a culture of individuality can be explained how the violence against women is expressed in both contexts. In Cuba, the FMC and the legal system are proactive in the fight against the sexism, many evils root. There is no comparable organization or national legal statutes in the United States to defend women's rights in this way.
The concept of solidarity within the Cuban revolution emphasizes cooperation and engenders tenderness, softness, consideration, empathy. In the United States fierce individuality accentuates the competition often engenders aggression, hardness, roughness, and removes that tenderness.
Not to say that no man in Cuba show violence or all are tender. I am not idealizando to the Cuban people. I am aware that machismo and violence exist throughout the world. My point is that I saw something different in men of that island, something that gives me hope of a world better. There is still work to do, but Cuba is actively doing that job.
Gangs and war were my background. My travels around the United States reinforced this construction. I have not found a street in my country where I as a woman I feel safe walking alone at night. No Street!
My violent culture is what is known. My meeting with men who openly express tenderness is otherwise unknown, a shock to my psyche. For the first time I felt free, secure, peer of both sexes.
I learned something deep in my heart: that tenderness is a feature that is learned, and that violence is not a male trait innate.
In my adult life I have lived in the world of women. I have chosen female tenderness surround me because I feel that this protects me from my violent culture. In a web of CENESEX, called friends and friends, I have written to women about what Cuban men have taught me, and perhaps can now have a man in my life, a man full of tenderness. Will I have my own tenderness value to reach?
ORIGINAL SOURCE IN SPANISH, 'JUVENTUD REBELDE', HAVANA, CUBA:
Ternura versus violencia(

articulo en el Suplemento "Sexo Sentido", bajo la orientacion del Instituto de Sexo, Reproduccion y Genero en Cuba

)
La cultura de la solidaridad que impera en Cuba, frente a la cultura de la individualidad de los Estados Unidos, puede explicar cómo se expresa el fenómeno de la violencia contra la mujer en ambos contextos
Sue Greene • digital@juventudrebelde.cu 26 de Marzo del 2010 20:43:51 CDT
Sue Greene
digital@juventudrebelde.cu
26 de Marzo del 2010 20:43:51 CDT
«¿Puedo decirte lo que tienes que no tienen otros hombres?... Es el valor de tu propia ternura».
D. H. Lawrence
Crecí en una cultura de violencia durante una época violenta. Mis ojos observaban la violencia masculina en muchos sitios de mi ambiente. En las calles de Filadelfia veía pandillas de muchachos con armas de fuego. En la televisión veía sus imágenes en Vietnam.
Una imagen que siempre me acompaña es la del periódico en la ciudad de mi juventud. Cada día en la portada aparecía una columna titulada Cuenta diaria del crimen: una lista del número de mujeres violadas (por hombres) en ese día, el número de personas asesinadas (por hombres), el número de personas asaltadas violentamente (invariablemente por hombres)…
Todos estos eventos ocurrían durante 24 horas en mi ciudad. Día tras día, atestiguaba esa violencia. Mi hogar, con una madre divorciada y una hermana, era mi refugio. Así aprendí que la ternura era femenina y la violencia masculina. Necesité viajar muy lejos para abrir los ojos y el corazón a una perspectiva diferente.
Lo desconocido
Mi primer encuentro significativo con la ternura masculina comienza en la madrugada del día que llegué a Cuba. Tenía tantas expectativas y deseos de absorber cada faceta del país que decidí explorarlo inmediatamente.
Dejé el hotel y entré en el bulevar de Obispo, en La Habana Vieja. Las calles estaban oscuras y vacías. Mientras amanecía llegué a la plaza de San Francisco y vi a centenares de hombres reunidos.
Mi experiencia y educación me decían que esta no era una situación segura para una mujer sola. Sentí miedo, emocionalmente. Entonces recordé donde estaba. Intelectualmente sabía que estaba segura porque estaba en Cuba.
Me acerqué a esos hombres y quedé fascinada. Había tropezado con una muestra exquisita de la suavidad y la belleza masculina: posados en sus dedos, acuclillados en sus hombros, había cientos de pájaros tropicales.
Miré la interacción entre hombres y aves. Ellos le prodigaban caricias. Hablaban a sus pájaros. Los besaban. Los mostraban con orgullo a sus amigos. Eran abiertos en sus afectos y suavidades. Nunca he visto un grupo de hombres tan abierto frente a otros hombres.
Esa ternura masculina de Cuba cautivó mi atención, mi fascinación y mi admiración porque era tan contrario a mi mundo. Hasta ese punto yo no había conocido tal ternura en una escala tan grande. En esta nueva tierra la veía en las calles. En mi tierra natal veía violencia, y el corolario de la violencia es una gran falta de ternura.
¿Por qué en Cuba? Creo que hay muchas explicaciones para la diferencia entre los hombres de acá y los de mi país. Diferencias de cultura, diferencias entre una vida de cooperación y una vida de competición, y en la educación sexual.
Por un lado veía el activismo de organizaciones nacionales en Cuba, por el otro la ubicua pornografía en los Estados Unidos, que glorifica la violencia contra la mujer y la trata como objeto, y el amor a las armas, que también glorifica la violencia.
Una cultura de la solidaridad frente a una cultura de la individualidad puede explicar cómo se expresa la violencia contra la mujer en ambos contextos. En Cuba, la FMC y el sistema legislativo son proactivos en la lucha contra el sexismo, raíz de muchos males. No hay organización comparable ni estatutos legales nacionales en los Estados Unidos que defiendan de ese modo los derechos de la mujer.
El concepto de solidaridad dentro de la Revolución Cubana acentúa la cooperación y engendra ternura, suavidad, consideración, empatía. En los EE.UU. la individualidad feroz acentúa la competencia y a menudo engendra agresión, dureza, aspereza, y suprime esa ternura.
No quiere decir que ningún hombre en Cuba muestre violencia o que todos sean tiernos. No estoy idealizando a los cubanos. Soy consciente de que el machismo y la violencia existen en todo el mundo. Mi punto es que vi algo diferente en los hombres de esa Isla, algo que me da esperanzas sobre un mundo mejor. Todavía hay trabajo por hacer, pero Cuba está haciendo activamente ese trabajo.
Las pandillas y la guerra eran mis antecedentes. Mis viajes por los Estados Unidos reforzaron esta construcción. No he encontrado una calle en mi país donde yo como mujer me sienta segura caminando sola de noche. ¡Ninguna calle!
Mi cultura violenta es lo conocido. Mi encuentro con hombres que expresan abiertamente su ternura es lo contrario, lo desconocido, un choque a mi psique. Por primera vez me sentí libre, segura, entre iguales de ambos sexos.
En mi esencia, aprendí algo profundo: que la ternura es una característica que se aprende, y que la violencia no es un rasgo masculino innato.
En mi vida adulta he vivido sobre todo en el mundo de las mujeres. He elegido rodearme de ternura femenina porque siento que esto me resguarda de mi cultura violenta. En una web del CENESEX, llamada Amigos y Amigas, he escrito a mujeres sobre lo que los hombres cubanos me han enseñado, y quizá ahora pueda tener un hombre en mi vida, un hombre cargado de ternura. ¿Tendré el valor de mi propia ternura para tender la mano?