February 4, 2010
Cuban prisoner's art on exhibit at U of L
The Courier-Journal
Louisville, Kentucky- Souther Indiana.
An exhibit of 25 works by Cuban artist Antonio Guerrero will be exhibited in the Ekstrom Library at the University of Louisville from Friday through Feb. 19.
There will be an opening reception and poetry reading by Cuban poets on Feb. 9, from 4 to 6 p.m. in the Bingham Poetry Room of the library.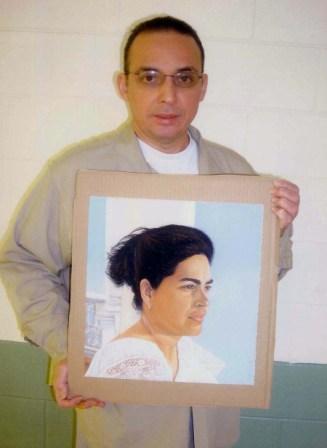 The art in the touring exhibit, which is open to the public during regular library hours, was created by Guerrero, who was one of five Cubans convicted of spying on the United States for the Castro government in 2001. Guerrero is in prison on a sentence of 21 years and 10 months.
The 50-year-old Guerrero is largely self-taught, and first took up art in prison. His art includes images of the prisoners' mothers, wives and children, Fidel Castro, Che Guevara, cats, birds, nudes, views of Havana Harbor and Colorado mountains and the green metal door of his cell.
Sponsors of the exhibit include: Kentucky Interfaith Taskforce on Latin America and the Caribbean, The Henry Wallace Brigade, U of L Anne Braden Institute for Social Justice Research, U of L Latin American and Latino Studies Program and the library.