SANTIAGO DE CUBA, Cuba, Jan 11 (acn) Not being used to low temperatures, the people of the province of Santiago de Cuba experienced the lowest temperatures of the current winter season last Sunday.
Weather forecast expert Gerardo Napoles told ACN that the mountain station of La Gran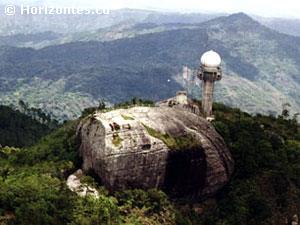 Piedra reported 5.8 Celsius degrees, while in the municipalities of Contramaestre and the
capital city of Santiago were reported 10.8 and 14.5 Celsius degrees respectively.
The expert said the low temperatures are caused by a stable and dry mass of cold air
coming from the artic that is affecting the whole country. He noted that the weather
conditions should get better by Wednesday.
Even though the temperatures in Santiago de Cuba are not as low as those reported in other
parts of the country this year, for the people in the eastern province are noticeable as
temperatures are very high (average of 33 Celsius degrees) in this province for most of the
year.
Ana Lourdes Brito Moreno, director of the province's weather forecast center, said the
record of minimum temperatures in La Gran Piedra is 3.3 degrees registered in February 2009.
In Contramaestre, the lowest temperature was marked on January 7, 1984, with 7.6, and in
Santiago de Cuba city, the record is 14.0 reported on February 5, 1980.
The expert warned that many more cold days are still to come in the present winter season.